The Grafton to Inverell has a long history steeped in tradition and is regarded by many as one of Australia's toughest bike races. At 228km with 3500 metres of climbing it is not unique in terms of cycling events. There are a number of other cycle events in Australia with similar stats. Peaks Challenge (235km and 4000m), Alpine Classic (200 and 3600, plus longer challenges) and Fitz's challenge (255 and 5000) are all long days in the saddle. The difference with Grafton to Inverell is that it is a 'race' not a 'challenge'. And that's not to diminish the accomplishment of those who have completed one of the challenge rides; it's just to point out that Grafton is a bit different. The nutrition considerations associated with 'racing' are different to those when 'completing'.
Of course I had heard and read about the race before. I'd never really considered doing it though, mostly because there had never been a category for women until 3 years ago. That bit is really hard to comprehend. Australia's toughest one day classic did not have a women's category until 2017. There were 16 female starters in 2017 and 12 finished. In 2018 there were 18 starters and 14 finishers.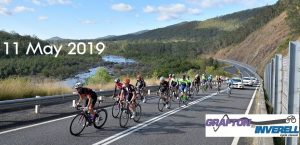 Every year when I am planning out the year ahead I think about what my cycling goals will be. I try and choose different events, ones I haven't done before, because it's nice to experience different places. This year I figured G2I would be the first half goal for the year. I've outlined my preparation and build in the more detailed race report in a separate blog post if you want to take a look at the stats.
This year 21 women entered the Des Femmes category which is raced alongside the men's C grade. So going into it you at least know there will be a bunch of male riders around you at the start. But I am not going to lie to you and tell you I was not intimidated by this race, I was. Seriously intimidated. So much so, that in the 2 days before the race I had to self-impose a social media blackout of sorts. It seemed like every second post I was reading or seeing was about the race, which was just making me more nervous. So all those lovely people that messaged me ahead of the race that I didn't respond to, please accept my apologies. It was good in a way that I had a near 5 hour drive to get there the day before. I couldn't get on social media, and I got to listen to a couple of really good sport science podcasts that I'd had in the podcast queue for a while.
I am ever so grateful that through the support of Regional Australia Bank I was in a team. Not that the G2I for women was going to be raced along team lines. It was more about building the profile of the Des Femmes category and providing us the opportunity to race in a supported environment. We were staying together in the same accommodation so the night before was about preparing food/musettes and talking through the race with our experienced handlers. All the talk before the race was about the winds at the top of the range and the temperature. So your thoughts are around what to wear. I had brought all my layers and settled on thermal vest, jersey, gilet, arm warmers, bluff on my head under the helmet, and knee warmers. And I'll tell you now that I was absolutely not overdressed. I was on the edge of being too cold for most of the day. The only concession to this clothing I made was to pull my arm warmers down for the main climb of 17km (and to pull them straight up again as soon as I reached the top).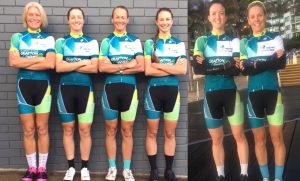 So what was the race plan? Well this is really dictated at the beginning by the C grade men. I knew it was 70km to the base of the main climb – the Gibraltar range. So my thoughts were to sit in as much as possible and arrive at the bottom of the climb in good shape to give it a smack. I was hoping to be in a decent bunch at the top of the climb and knew that was important. What I failed to appreciate was just how many hits you needed to take in that first 70km to stay with the bunch. There is almost 1000 metres of climbing in the 70km. There is no way you can really sit in and preserve yourself, as there is no flat riding; it is all either up or down rollers. In fact my highest 5 minute power for the whole race was in the first QOM which was at the 25km mark. Pretty sure I was not the only one for whom this would be the case.
To be honest I felt really unsettled right from the start. I was incredibly nervous and anxious (even though I have been doing this a long time). I was concerned that I had not been able to do any rides longer than 6 hours in training. I'd also missed my last two long rides – one because I chose to go and race state crits and the following week with a lurgy; and that was playing on my mind. I thought I was a bit underdone actually (more on that in the build and stats blog).
At the base of the climb I arrived with the main bunch in reasonable shape. As soon as we started climbing though, I realised I was getting a migraine. Now anyone that knows me will tell you that I refuse to make excuses. I'm confident I got the migraine from being anxious, and I know the pattern of a migraine. I get an aura in one eye for the first 20 minutes or so. Then I get the headache that follows. My plan pre-race to really hit the climb hard goes out the window – mostly because I can't see properly! So I reassess and tempo up the 17km climb (5.3%) instead. I'm riding next to one of my Sunny Coast team mates and he asks how I am going. I tell him what's happening, as I know he's a doctor. His response is to ask me if I am sure I am not having a stroke. Thanks Seb. Half way up the climb predictably the aura goes and is replaced by a thumping headache. There's not really anything I can do about it but keep drinking and eating and hope it buzzes off quick smart. It didn't.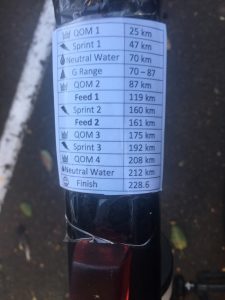 At the top of the climb I started to hear some noise that sounded like helicopters taking off. I was thinking, gee they've got great race coverage. It wasn't helicopters. It was the famed wind that swirls around the trees and greets you with a smack at the top of the range. There were broken branches on the road everywhere from this point onwards. And that wind was arctic cold and straight on our noses. We were 90km into the race with 140km to go and a freezing cold block head-wind.
To top it off, I was in the position no rider ever wants to be: 'no man's land'. I could see the group in front of me on the climb, but didn't feel well enough to bridge across to them. And I was ahead of the main gruppetto. So I did what any other cyclist would have done; I sat up and waited for them. In fact I did more than that. I stopped, and zipped up my gilet. It had blown open at the top of the climb and my hands were so cold I could not get it done back up. Plus I didn't trust myself riding no-hands in those conditions.
Sure enough the gruppetto came by after not very long actually and I jumped on for the ride. I guess we had about 15 in the group at this stage. We were getting blown around badly. Some of the riders were trying to get the group working on rolling turns. We'd get it going for a while, until some huge wind gust would come through and the passengers on the back wouldn't come through for their turn. It was frustrating and there was a fair bit of swearing going on. Most commonly 'it's not that effin difficult boys'.
The first feed station was at the 119km mark. I had a fabulous handler who knew exactly what he was doing. He had told me the first section of the feed zone would be chaos and that he would be at the very end of the feed zone out of the way. And that's exactly where he was. I grabbed my musette smoothly and effortlessly and slung it over my helmet (had to say that, simply because I actually managed to not fall off). I rummaged through it looking for the vegemite sandwich I was craving, grabbed that and some fruit cake, a bidon of Infinit; and then threw the bag back in the dump zone. I was in the first couple of riders now but there was no point going anywhere hard. The wind was crazy and even though I knew I was one of the strongest riders in the group it was pointless going out on my own. So when the bunch called race breaks to pee, we just had to go along with it. They called 3 of these in fact, and the group respected this and reformed each time down the road. We also continuously picked up solo riders who had been dropped from the bunch ahead.
Talking to other riders, this 40km section between the two feed zones (second at 160km) was a key period for many. For me it wasn't that bad. I was stuffing my face and rolling through for my turn. In fact a lot of the time when you were not on the front you were adjusting food around. Cold hands and wearing a gilet meant it was not that easy to access food. So I was constantly reaching back and grabbing something when I could and shoving it down the front of my top for easy access when I needed it. I was covered in snot (heck it was cold and you know what happens to your nose), sweat, gel residue, food crumbs but really couldn't have given a rat's you know what. It was all about survival at that stage.
Approaching the second feed zone at Glenn Innes I knew I didn't need to take on more food as I had enough. I just asked my handler for a bidon and left the bag with him. He later told me his first thoughts were 'score!' as he knew there was chocolate in there, it was freezing and he deserved it. I soft pedalled for at least the next 5km waiting for the bunch to re-form, oh and they took another ride break. I have to be honest and say it was frustrating knowing that I should have been in the group ahead of this one. But there was nothing I could do about it, and I wonder if in a way it worked to my favour. Because you see, at around the 185km mark my headache finally went, and I felt the strongest I had for the whole race. Yep, the last 40km was when I felt the best I had the whole race. I know quite a few riders were suffering at this time, and it might just be that I wasn't because I had been forced to ride within myself.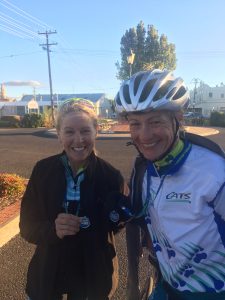 There was a nasty little climb of just over 1km at 5% with 15km to go. A little dig up this and the group was whittled down to about 15, with 3 girls still there. All 3 girls were strong though, never missed a turn the whole ride. In my head my secret goal (once I knew there were 21 women entered) was to finish in the top 10. I knew in this group we were about 8th, 9th and 10th or thereabouts. So I wasn't about to let the group go.
At this stage the ride has taken a left off the highway and you come into Inverell on a back street. The road closure has finished though, so cars have access to the road; and yes we had a couple. The heart rate spiked a bit when this happened as we were so used to having the whole road to work with and now it was gone. The boys in the bunch started to fox a bit with about 6 km to go. One of the girls piped up with 'FFS guys, the race is over, let's just get home'. Kudos to her.
The final climb with about 5km to go is just, well, nasty. It feels like it goes on forever, when really Gibsons Hill is just 1.4km at 5%. I was glad to see the back of it though, and a speedy downhill run to the finish line. I wasn't taking any chances leading into the finish with the placings; I knew I had to sprint. I had a great line on the right hand side, and came over in the first couple and 8th place female overall (and yes it was my peak 30 second power for the whole race).
How to describe the finish? Relieved I think was the overwhelming emotion. And then a wonder about what could have been. What would have happened if I'd ridden the climb harder and been in a different bunch? Would I have blown up like others? I guess the only way to know is to come back next year and find out.
With thanks to Regional Australia bank, my team-mates and our handlers. Congrats to my team-mates who all finished the race. Madeleine Lambooy in only her second road race finishing in a superb 4th place. Pia Smith who improved her time by more than an hour from last year to finish in 7th place. Cathy Reardon who waited more than 30 years to be able to do this race after a stellar career representing Australia as a road cyclist. Amanda Kyneur and Jena Slavin who had made a pact before the race that they would ride together; and they honoured this. It was 8 hours of racing, but truly a lifetime of memories created.