The Tour de Tweed: round 2 of the 2019 National Road Series (NRS) served up a bit of everything. Two lumpy road stages, an Individual Time Trial (ITT), followed by a technical crit. By Australian standards a large peloton of 70 riders took on the event, as it combined the NRS riders with the Queensland Road Team Series riders. What did it take for a rookie rider to be competitive in the Stage 2 road race? All data used with permission of the rider with thanks. Plus, insights from me in the first person because I was in the race as well.
Stage 2 – a road race of 74km with around 800m of climbing. Here's the summary data with the visual showing just elevation (grey), heart rate (red) and power (pink).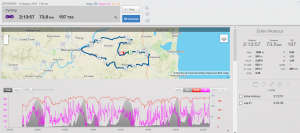 What do we see from the ride analysis? A neutral start followed by a short pause in proceedings as the commissaires realised they had started us a bit early. Straight up you see the first climb of the day which was neutral until about half way up, and then on like donkey kong. Riders who knew the course were aware that the position on the descent following this climb was vital. I'd briefed our riders to be ready for this to ensure they were in good position at the top of the first hill. Keep in mind that this is all within 5km of the start, so very early. The climb for this rider was 4 minutes 15 at an average power of 284W (4.7W/kg). But, it was really only the second half of the climb that was under race conditions. For this 2 minutes the rider averaged 341W or 5.7W/kg.
Now to that descent I mentioned. The rider found herself out of position on the descent and was passed by a number of other riders as she struggled to maintain her place. This was simply inexperience on her part. At the bottom of the descent she found herself off the main bunch and forced to chase back on. I knew she wasn't there as I spoke with our other team rider who had made the main bunch about what we should do. I decided to give her a few minutes to try and ride back on as the bunch had sat up a bit. And ride back on she did, but what did it take? It took her 3 minutes and 45 seconds to ride back on at an average power of 333W. This period included her highest 2 minute power for the entire ride at 348W or 5.8W/kg. And it was all done on flat terrain. I've marked it below.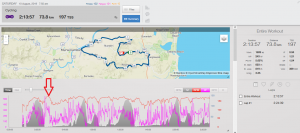 As she caught back up to us on the bunch she said to me, in a master understatement – 'clearly I need to work on my descending'. But how tough was she to chase back on? You only have so many matches to burn in a race like this, and that was one or two definitely used.
You can see after this the peloton played nice for a while with the average speed in the 30s. Then around the 15km mark the speed increases approaching the first intermediate sprint and heading into the first QOM. Here the rider produced her peak 5 minute power for the day at 312W (5.2W/kg). Solid, but quite a bit below the effort used on the first 'semi-neutral' hill and chase.

Following the QOM descent was the infamous gravel section of 1.2km which brought a number of riders to grief. I've zoomed into this section for detail. The rider is working hard downhill to try and chase back on to the main bunch again. Then we hit the gravel and the rider got caught up in a fall, whilst not falling herself. But again this left her behind the main group and forced a long section of chasing. I can verify this first hand as I was hanging on as best I could here, knowing that we needed to try and get back in contact. This period of chasing was around 7 minutes at a normalized power of 280W or 4.7W/kg. Very solid indeed, and another match or two burned.

This brought us back to start/finish line again (it was a 2 lap course) and we hit the first climb again, this time from the base. Average power for the climb of just over 4 minutes was 286W. So slightly higher than on lap 1, but remember that the first half of the climb on lap 1 was neutral. Onto the descent that was challenging for our rider first time round. Without riders around her she was able to descend a little quicker than on lap 1 and got herself back onto the main bunch sooner with less effort. It helped that the peloton really switched it off here. And I mean really – for about a kilometre they were doing 25kph. But trust me; some of us were very grateful for this reprieve. Following this the speed winds up again heading into the intermediate sprint on Lap 2.

Sprint over and it was time to ready ourselves for the final QOM. Comparing this to lap 1 looking at Strava, our rider averaged 275W (293W on lap 1) and was around 53 seconds slower. She was with the main bunch though and most of the rider's times reflected the fact that at this stage there were some cooked legs in the peloton.
Into the flat section ahead of the gravel and there was some chasing going on again, another 6 minutes at well above FTP. We knew from lap 1 that the gravel section was going to be crucial. Lose the pack here and it was going to be very hard to get back on. The words 'fearless' were spoken between us. I can't speak for the other rider, but I know the risk:benefit analysis was going on in my head. I'm 54 years old and I know my body does not heal as well as it once did!
As it turns out there was another fall just in front of us on this section and the peloton got really strung out. Our rider was ahead of me in 'no man's land' whilst I managed to join in with several riders off the main bunch to work together to lose as little time as possible.
Our rider came in just on 2 minutes behind the main bunch, the final 13 minutes done at an intensity equivalent to her FTP. Quite a remarkable amount of hurting considering the number of hits she had taken already in the race. So all in all a fabulous introduction to NRS riding for our rider. All the physiology is there, her improvement from this point onwards will come primarily from experience and race craft. She is definitely one to watch!
Summary statistics:
Distance: 73.8km
Duration: 2 hours 14
Speed: 33.1 kph
Elevation: 820m
Average Power: 201W (3.35W/kg)
Normalized Power: 243W (4.05W/kg)
2 minute peak: 348W (5.8W/kg)
5 minute peak: 307W (5.1W/kg)
TSS: 197
Intensity Factor: 0.94
Variability Index: 1.21
Pw:Hr (cardiovascular drift or decoupling): 5.6%. With an average temperature of 17 degrees this drift is likely to be effort related, rather than environmental.