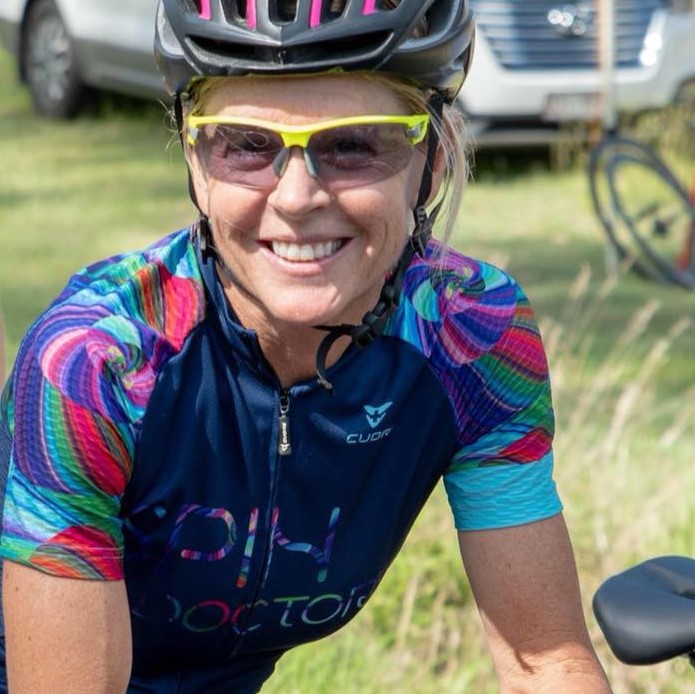 Dr Deborah Latouf
BPE (Hons) MBA PhD
Director/Head Coach
Welcome to Spin Doctor Coaching and thanks for taking the time to read this. I've been involved in the sports of triathlon and cycling for more than 30 years as a sport scientist, coach, administrator and athlete. I completed my PhD in sport science at the University of Western Australia with a focus on motor learning and development. Following this I moved to the Australian Institute of Sport as head of the Talent Identification program for the Sydney Olympic Games. During my time in Canberra I was heavily involved in triathlon and distance running as an administrator, selector, coach and athlete. Over the course of these 10 years I also spent a lot of time in planes, airports and other countries consulting internationally and bench-marking high performance sports programs (travel is nowhere near as glamorous as some might think). After Sydney 2000 I moved to South Africa and spent the next 5 years engaged in the South African sports system to identify and develop talent; and as high performance manager for Triathlon South Africa.
I returned to Australia in 2005 and since this time have been coaching both cycling and triathlon. I consider myself a sport scientist who coaches. My focus is an evidence based approach that is founded on science. Having said that, there is an art and a science to coaching; and understanding you as an athlete is a very important part of coaching. Coaching is therefore definitely not all about numbers. The way I coach creates accountability, and I understand that this does not work for all athletes. I work with you as an athlete to develop a training program that is manageable within the boundaries of your lifestyle. It is my job to get adaptation in your performance with the time you have available to train. For this reason my programs are quite dynamic. I feedback on every session daily and am constantly tweaking sessions to ensure maximum gains for the least amount of training time.
In the past I have worked predominantly with high performance athletes. I still do, but these days the bulk of my clientele are age group/masters level athletes in road cycling and triathlon. They work, have families and train. They know they are not going to go to the Olympics but their goals are still important to them. They want to get maximum training benefit from the time they have available. Sound like you? Then I'd love to hear from you.
Contact
And to show you how long I really have been involved in riding and running, take a look at these gems! World Duathlon Championships, National Time Trial Championships, Sri Chinmoy Triathlon and Canberra Marathon, all Mid 1990s.